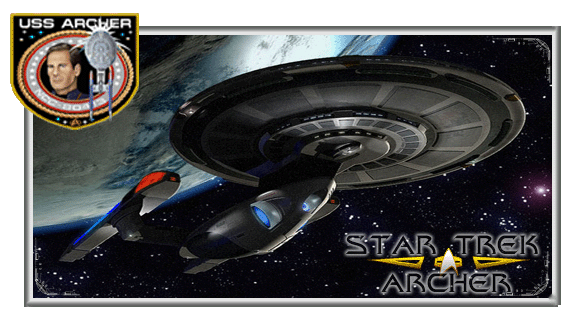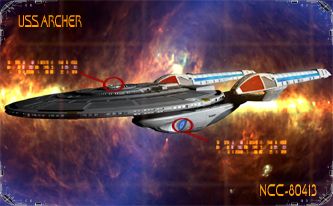 The year is 2393, and a new Daystrom class Starship has taken shape above the small blue green world named, Earth. Currently heading to Brazan wormhole. She attached to Starbase 47. The new Daystrom class starship bares the last name of the historical Starfleet captain, Jonathan Archer. She is currently accepting those officers who can offer the best to their position, work well together and to continue the mission in which Captain Archer started centuries before.

USS Archer is a Daystrom Class Starship. The Archer is assigned to, Starbase 47; An Attachment of Task Force 47 A - "The Musketeers". SB47 is located at the Barzan Wormhole. This Wormhole connects the Federation to the Delta Quadrant, the exit aperture of which was discovered by the USS Voyager in 2373. The USS Archer is crewed by brave and honorable men and women of Starfleet.
Days after the battle against the Tholians at Barzan wormhole; Alpha Quadrant and with the return of Starbase 47 from the hands of the Prolatian. Many of the Archer's crew has been reassigned to other ships through out the fleet. Which left Commander Neshra, reviewing possible new senior staff. The Andorian Vuclan CO of the Archer has her days nearly filled with meeting with people and appoint them to their section. The USS Archer, once again in the same dock in which she was forged from. To receive repairs from the battle against the Tholians. Once repaired, are complete, Daystrom class USS Archer, disembarks to Earth Two, the home world of the Onlies, in attempt to save one of their own and possible find the true source to the Onlies plight.
It's up to the crew of the Archer to find a cure for those that call Earth Two home and determine how to save them.